Winner of this year's Carnegie Medal, Philip Reeve will be talking about his hugely successful career with Simon Newton from Anglia News.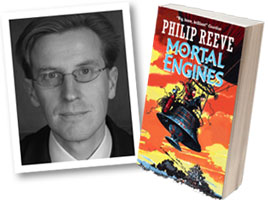 Starting out as an illustrator, Reeve has contributed to more than 40 titles, among them the Horrible Histories, Murderous Maths and Dead Famous series. As a writer, he is responsible for the Buster Bayliss books, but he is probably most known for the fantastic Mortal Engines adventure quartet, and then the space adventure Larklight. Refusing to be categorised his latest novel, Here Lies Arthur is different again, stepping back to the Arthurian legend. So what comes next? Perhaps he'll let us know in his visit to Woodbridge - quiz him to find out!
Fans of Reeve's work will have been asked to contribute their questions to him before this evening's event, but there will also be time for questions from the floor. And we hope that the author will read some short extracts from his books too. At 8.30pm Philip has kindly agreed to sign books.
This is an opportunity not to be missed, and tickets will be limited. Book now! To find out more about the author visit www.mortalengines.co.uk.